The Help Center released by Motili will assist you in quickly and efficiently using the Motili Contractor Platform and the Motili Mobile App. You'll find instructions and tips for accepting a Motili job, uploading photos of the work you perform, ordering parts and equipment, submitting the Work Order, getting paid promptly, and troubleshooting.
The Motili Help Center contains:
Updated Documentation – Learn to use all or part of the Contractor Platform and the Mobile App. Screens shots show real-life examples of the software.
Prominent Search – Easily search for content from the Home page and from every topic.
Focused Navigation – This site is for documentation and documentation only, with clear and focused navigation.
PDFs – Commonly-requested PDFs are posted on the Home page. Download them and use them today.
Built in feedback – We love to hear your feedback. Email us at support@motili.com.
Launch the Help Center
Go to https://motili.help.com to launch the Help Center.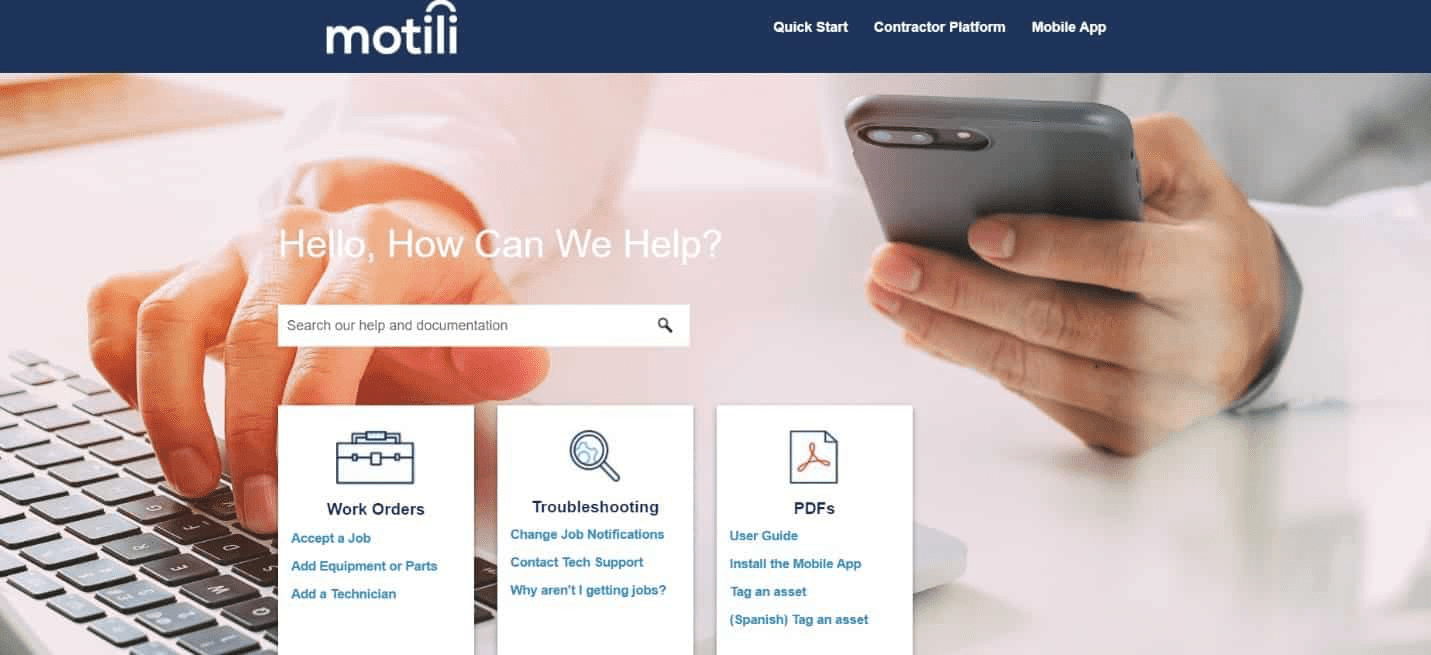 If you are already logged in to the Contractor Platform, click the Help icon, and choose Online Help.
Navigate the Help Center
Search
Type your question in the Search bar and go directly to your answer. For example, to join the Motili contractor network, you need to upload your W-9 Taxpayer ID form. Type upload W-9 in the Search bar, review the results, and go directly to the instructions.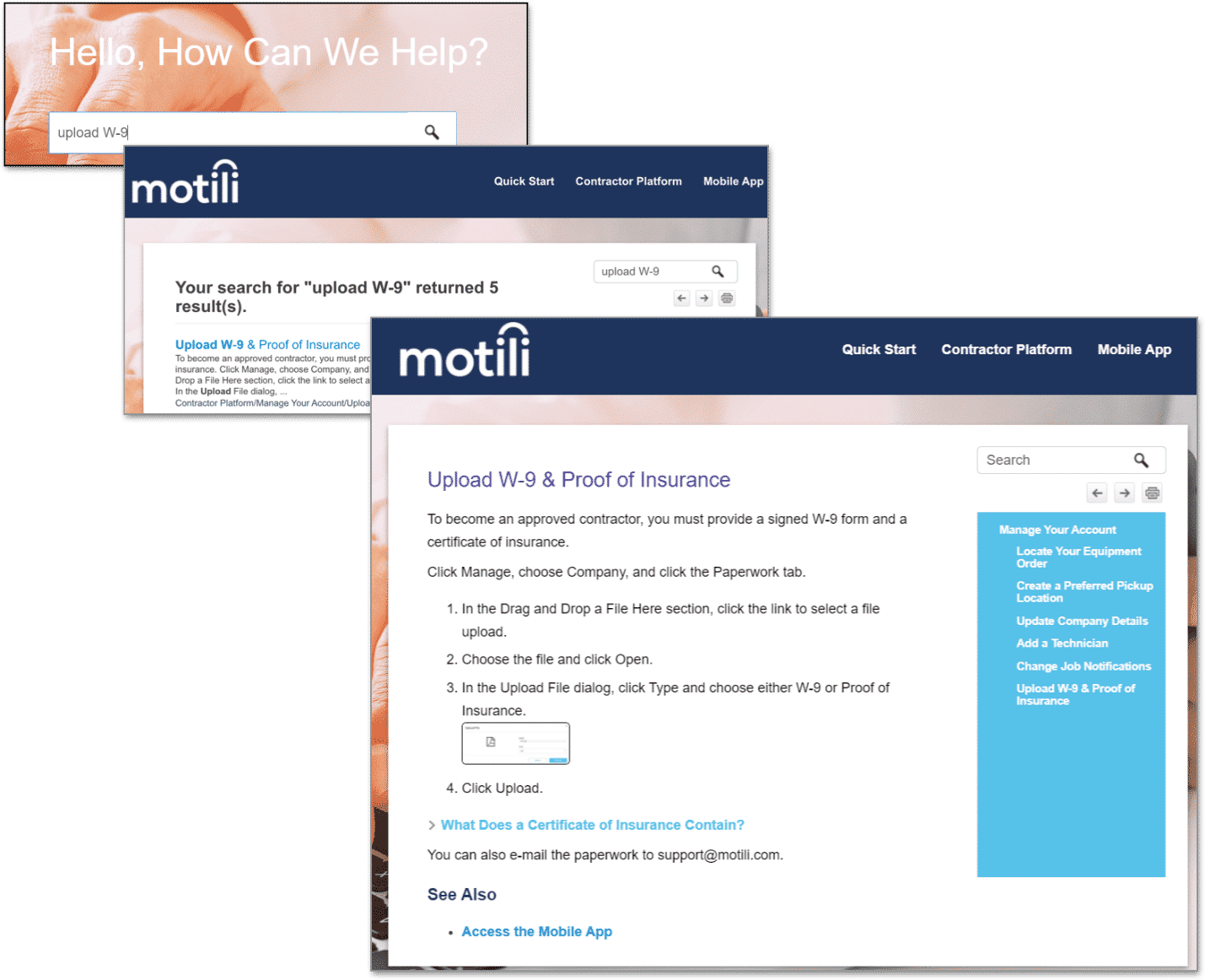 Search is also available from every topic and will retrieve the same results as a search from the Home page. If a topic has a graphic, hover over it to view it and then move away from the graphic to return to the text.
Browse
The menus at the top of the Home page let you choose a subject and narrow it down to a specific topic.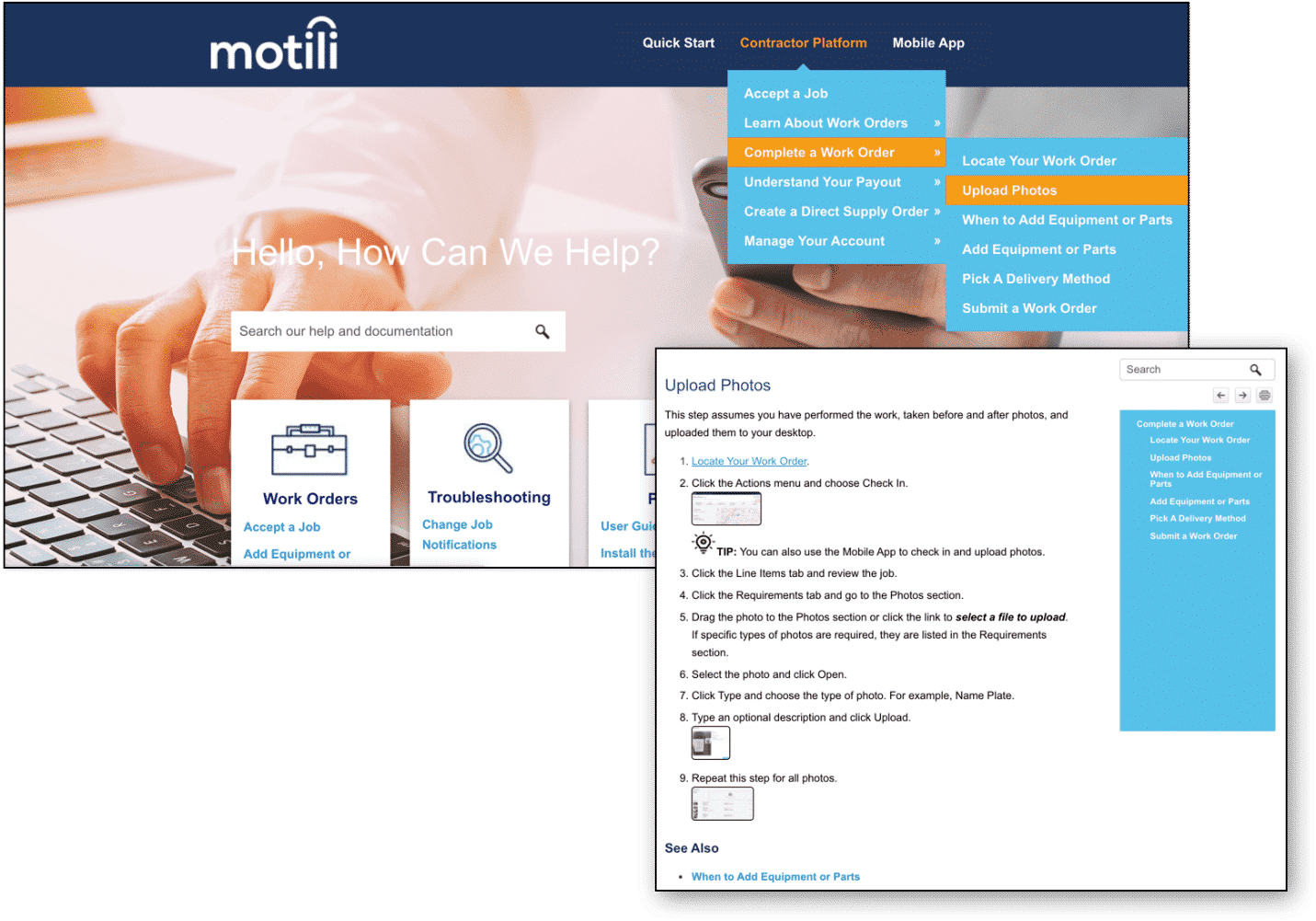 You can view a related topic, such as When to Add Equipment or Parts, by clicking that link. To return to this page, click Navigate Previous or click Back.
Why is Motili Best for Contractors?
Motili Contractors is a leading HVAC service provider, serving some of the largest property management companies in the country. Their goal is to simplify the HVAC service process and make it more efficient for contractors and property managers. To achieve this goal, they have recently launched a new help center to support their customers better.
The new Motili help center is a one-stop shop for all your HVAC service needs. It offers a wealth of information, resources, and tools to help you easily manage your HVAC jobs. So whether you need help with the Motili app, have a question about HVAC service, or want to stay up-to-date on industry news, the help center has everything you need.
Motili Contractors is committed to providing their customers with the best possible HVAC service experience. The new help center is just one example of the company's commitment to making HVAC service more manageable and efficient for everyone involved. Whether you are a contractor, property manager, or HVAC service professional, Motili has the tools and resources to manage your HVAC jobs confidently.
Motili notifies contractors when a client needs service. Contractors choose which jobs to accept, but there's no competition with other contractors once a position is taken. Motili provides the equipment, saving the contractor time and energy.